CALLING ALL ADOLESCENT ARTISTS!
The Coalition for Adolescent Girls and Together for Girls want you to show us who influences you and how you strive to influence others.
We all know that girls can achieve great things and be powerful agents of change when they're given the right tools, support, and opportunities. We also know there are many strong female role models actively improving the lives of others, even if we don't hear about it on a daily basis. For this year's art contest, we want you to show us how you understand 'influence'.
How do you strive to change the world for others? What kind of mark do you hope to leave on this world? Has someone positively influenced your life?
Use your creativity and talent to create a piece of art that is built around one of the following questions:
Who influences you in a positive way?
How do you want to influence others or change other people's lives?
How do you use your influence, or your voice, to make the world a better, brighter place?
Show us your talent – take the world in your hands – and help us show how we can all change the lives of those around us.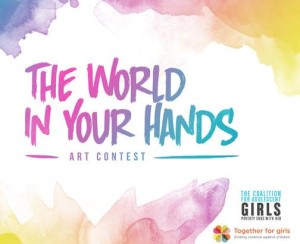 RULES: All individuals between the ages of 12-24 may enter. Entries can be photographs, paintings, drawings, sculpture, or poetry. (In order to eliminate shipping costs, all participants should submit photos of their entries rather than sending the original artwork.) Instructions on how to photograph your art work is available here. Participants are also encouraged to submit a short description of their work, their solution, and their inspiration behind it all. For full contest rules click here.
PRIZES: The top entries will be featured in Together for Girls' Safe magazine and at an event at the 2017 Commission on the Status of Women. What a great way to showcase your work to an international audience! The top winner will also receive over $150 worth of art supplies and materials.
DEADLINE: January 23, 2017 (Winners will be announced in March 2017!)
Have questions? Contact Sacha Green-Atchley, CAG Coordinator, at CAGartcontest@gmail.com.