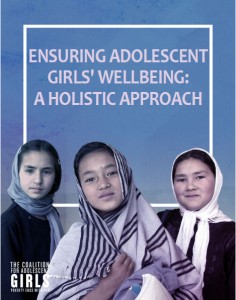 Members of the Coalition for Adolescent Girls created this resource to inform practitioners, policy-makers, advocates, researchers, donors, and governments about the diverse and multi-faceted needs of adolescent girls.  Adolescent girls' wellbeing is multi-dimensional, including physical, emotional, civil, and social dimensions that combine and affect an individual's experiences and actions. Ensuring adolescent girls' wellbeing and improving their lives in measurable and sustainable ways require more than broad cross-sector commitment and integrated approaches. These outcomes require accountability, reliable and quality resources, robust evidence, collaborative and targeted programs, long-term investment, political will, and above all, listening and working with girls as equal partners. Addressing the complex needs of adolescent girls requires that all actors see each adolescent girl as a whole person, with unique and intersecting needs and talents, and that adolescent girls have the opportunity to express those needs and to be heard.
The objective of this document is to consolidate information related to adolescent girls' wellbeing and to illustrate entry points for holistic, multi-sectoral initiatives that can help girls achieve wellbeing. This resource is outcome-focused; multiple experts from the adolescent girl field identified their optimal outcomes as related to girls' education, health, economic empowerment, hygiene, experience of gender-based violence, and experience in conflict, emergency, or humanitarian settings.  We illustrate connections across sectors that make the case that the holistic needs of girls must be taken into consideration regardless of in which sector the program or policy originates.
This resource can be used in any of the following ways:
As a thoughtfulness tool

Program planners or designers can use this resource to inform their desired outcomes and practices and, potentially, to help find creative ways to achieve some outcomes that are outside the program's scope.

As an evaluation tool

Program or project evaluators can look to this resource for suggestions as to what outcomes and progress could be measured and on how to design indicators that accurately measure adolescent girls' wellbeing.

As a guide for donors

Donors can use this resource to inform their understanding of adolescent girls' needs and the potential progress and outcomes they can expect from well-designed, girl-informed programming.

As a tool to promote cross-sector understanding

Anyone can use this tool to increase their understanding of desired outcomes for adolescent girls, regardless of the sector in which they work. For example, this tool can be used by those in the education sector, to increase their understanding of girls' hygiene and sanitation needs.